Airship Solutions Products
Airship Solutions manufactures tethered blimps, flying blimps, aerial photography blimps and specalises in custom airship solutions.
Select a photograph of link for more information
Airships that fly via remote control or autonomously for advertising, filming scientific or alternative purposes. Click here to see small, medium or large blimps.
Tethered Blimps and Spheres operate as large balloons that are inflated with helium and are tied to the ground with a rope. Click here to see examples from 5ft to 32ft.
Blimps that have been designed to lift camera and Gimbal (Pan/Tilt) Payloads with microwave video links and ground stations. Click here to see Aerial Photography Solutions
There are four standard Airship sizes available, complete with spares. The Airships have the ability to fly in stadiums, shopping centers, atriums, exhibition and convention centers as well as all outdoor locations.
Airship Solutions can design and build airships to accommodate for any special requirements, which will maximise your business and promotional opportunities. If you have a specific application or requirement, then we can build-to-order. Airship Solutions custom builds all its platforms in Australia and North America.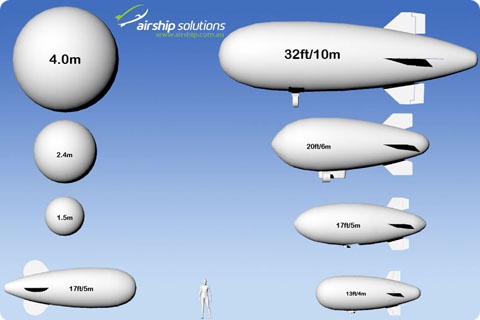 Airship Solutions can also provide full training in the handling, operation and flying of the Airships across North America, Australia or Europe and has provided training services on all continents.
Training is also available for aerial photography and filming.